#RedWednesday – 23rd November 2016
On #RedWednesday – Wednesday 23rd November – all  over the UK people came together to honour those who have suffered because of their religion, and to stand in solidarity with millions of people, targeted for their beliefs and living in fear. 
http://www.christiantoday.com/article/colour.of.blood.london.turns.red.for.millions.killed.in.religious.persecution/101829.htm
http://www.thetablet.co.uk/news/6420/0/international-criminal-court-must-hold-islamic-state-extremists-to-account-for-barbaric-genocide-against-christians-says-catholic-peer-
 UK's Coptic Orthodox Cathedral Goes Red –
Listen to His Grace, Archbishop  Angaelos, General Bishop Coptic Orthodox Church United Kingdom: click here: http://bit.ly/2fnfLg2
November 23rd 2016: Under the shadow of IS: Iraqi Christians tell of crucifixions, torture… 
Read the full article on HRWF website
Also see: David Alton's most recent comment on Genocide Against Christians and other minorities, November 25th 2016: 
http://www.premierchristianity.com/Blog/We-re-failing-ISIS-victims.-If-we-don-t-act-now-we-ll-have-blood-on-our-hands
Malta's Gates of Valletta Go red In Solidarity
=========================================================================-
Following Red Wednesday: Religious Freedom in The World Report Launched at Westminster – November 24th 2016  
executive-summary-2016-embargoed-digital
Pictured in Westminster Hall where St.Thomas More – Lord Chancellor and former  Speaker of the House of Commons was tried and ordered to be executed. 
Report warns of global impact of religious "hyper-extremism"
Survey blames religious hatred for increased instability around the world 
RELIGIOUS FUNDAMENTALISM – more lethal than ever seen before – is unleashing death, destruction, displacement and instability at unprecedented levels, according to a report out yesterday (Thursday).
The Religious Freedom in the World 2016 report, produced by Catholic charity Aid to the Church in Need, warns of the global impact of "a new phenomenon of religiously-motivated violence", which it terms "Islamist hyper-extremism".
In defining this new ultra-extremism, the report highlights distinguishing features which are described as evidence of the radicals' threat to world peace, stability and social harmony in the West.
Key characteristics of "Islamist hyper-extremism" include systematic attempts to drive out all dissenting groups – including moderates, unprecedented levels of cruelty, global reach and the effective use of social media, often used to glamorise violence. 
The report was launched yesterday (Thursday) and the evening before landmark buildings around the country were flood lit in red to highlight the significance of religious freedom and to remember the thousands of people who die because of hatred against their beliefs.
Later that day, a copy of the Religious Freedom in the World 2016 Report, produced by Catholic charity Aid to the Church in Need (ACN), was presented to HRH The Prince of Wales at Clarence House, London.
Present at the meeting were religious leaders who had spoken at the parliamentary launch event and senior ACN staff.
The Prince – who had given a video statement at the launch of the Religious Freedom in the World 2014 Report – met Shaykh Dr Umar Al-Qadri, Chair of the Irish Muslim Peace and Integration Council, Jesuit Father Ziad Hilal from Aleppo, Syria, Dr Sarah Bernstein, Director-General of the Jerusalem Centre for Jewish-Christian Relations and Neville Kyrke-Smith, National Director of Aid to the Church in Need (UK).
Yesterday, the Prince met the Syriac Orthodox Patriarch, Ignatius Aphrem II, who travlled from Damascus, and spoke earlier at the launch of the Religious Freedom report  http://www.aina.org/news/20161124130319.htm and at the Westminster Cathedral Red Wednesday event.
The Prince of Wales has used his speech at the consecration of a Syriac Orthodox Church in west London to highlight the plight of Christians in Syria.
His Royal Highness described the ceremony at the Cathedral of St Thomas in Acton as a "notable sign of hope for the future", amid the ongoing six year civil war.
Prince Charles said: "It is surely deeply encouraging, at a time when the members of the Syriac Orthodox Church in their homelands of Syria and Iraq are undergoing such desperate trials and such appalling suffering, that in Britain the Syriac Church is able to expand and gain in strength."
As part of the Red Wednesday initiative, London buildings lit up in red included: Westminster Abbey, Westminster Cathedral, the Houses of Parliament, the London Eye and Lambeth Palace.
Also flood lit was the Liberal Jewish Synagogue in London's St John's Wood.
Churches around the country were lit up – in Northamptonshire, Yorkshire and Lancashire – as well as Bolton Town Hall, Birmingham University Clock Tower and Liverpool Hope University.
The Religious Freedom in the World 2016 report, whose launch Red Wednesday marked, reiterated calls for Daesh (ISIS) persecution to be recognised as genocide.
The report's authors warn of a widespread attempt to replace pluralism with a religious mono-culture.
The report, which assesses the situation regarding religious freedom in each of the world's 196 countries, concludes: "In parts of the Middle East including Iraq and Syria, this hyper-extremism is eliminating all forms of religious diversity and is threatening to do so in parts of African and the Asian Sub-Continent."
This is echoed in the report's foreword by Father Jacques Mourad, a Christian monk who was held by Daesh in Syria for five months before escaping in October 2015.
Fr Mourad writes: "Our world teeters on the brink of complete catastrophe as extremism threatens to wipe out all trace of diversity in society."
The biennial report, which draws on research by journalists, academics and clergy, records that in the two-year period under review which ended in June, attacks linked to "hyper-extremism" had taken place in one out of five countries worldwide – from Australia to Sweden as well as 17 African countries.
Countering the popular view that governments are mostly to blame for persecution, the report puts the blame on non-state militants in 12 of the 23 worst-offending countries.
With refugee numbers at a new high of 65.3 million according to the UN, the report describes extremist Islamism as a "key driver" in the massive displacement of people fleeing countries such as Afghanistan, Somalia and Syria.
The Aid to the Church in Need report goes on to highlight the knock-on effect on countries in the West whose socio-religious fabric is being destabilised by the arrival of unprecedented numbers of refugees.
Such problems are, according to the report, compounded by the West falling victim to a sudden increase in fundamentalist Islamist attacks.
But, according to the report, not all problems regarding religious freedom are to do with militant Islam – with a "renewed crackdown" on religious groups reported in China and Turkmenistan and an ongoing denial of human rights for people of faith in worst-offending North Korea and Eritrea.
Nor is the outlook universally bleak – looking at Bhutan, Egypt and Qatar, countries notorious for religious freedom violations, the report found that the situation had improved for faith minorities during the period under review.
John Pontifex, London-based Editor-in-Chief of the report, said: "A core finding of our research is the emergence of a form of religious hyper-extremism which has left many parts of the world scarred by its savagery, which is the hallmark of its evident genocidal intent.
"Our report is a wake-up call both to highlight that extremism has entered a new and entirely more dangerous phase, and the role of the West
"If there is just one finding of the Religious Freedom in the World 2016 report it is that faith groups need to tackle hatred within their own ranks.
"What prospects are there for peace when powerful sections within specific faith groups have nothing but contempt for those who do not share their world view – and who deny the right to life not just to people of other faiths but also to moderates from among their own community?"
"The other problem borne out in the report is that Western policy makers frequently just don't get religion and need to rethink their whole outlook.
"It's no longer compatible to say that traditional faith practice belongs to the past when the evidence shows that for millions and millions of people – a new generation – religion is at the centre of their lives, driving everything they do.
This is the 13th edition of the report, which is produced by Aid to the Church in Need.
The charity provides emergency aid and help for persecuted and other suffering Christians in 140 countries around the world.  
The 'Religious Freedom in the World' 2016 report' will be available for download   at www.religion-freedom-report.org
==========================================================================
Buildings going red in solidarity…
The Houses of Parliament
London Routemaster Bus and the London Eye
Westminster Cathedral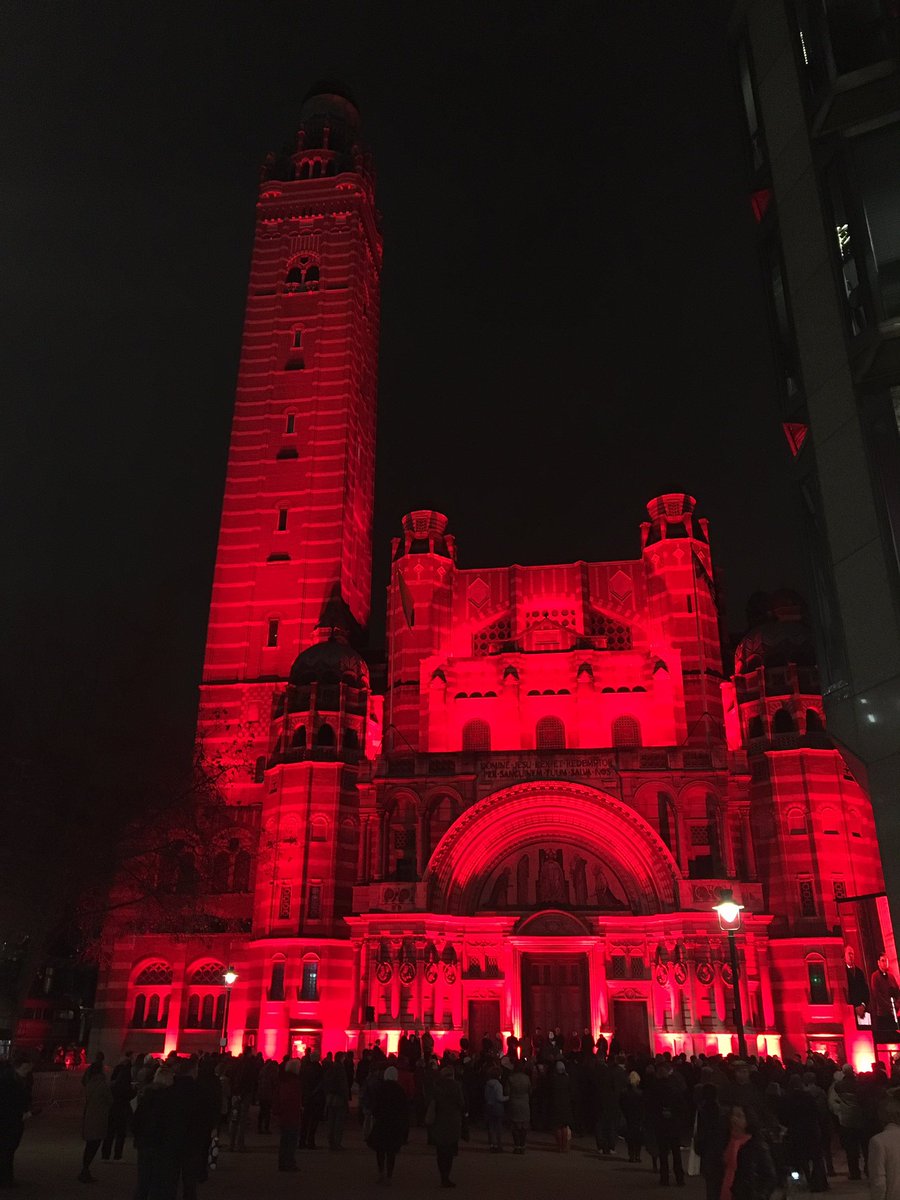 Canon Christopher Tuckwell, Westminster Cathedral – His Holiness Ignatius Aphrem II, Patriarch of the Syriac Orthodox Church, Damascus, Syria and the Rt Revd & Rt Hon Dr Richard Chartres, the Bishop of London
The North West of England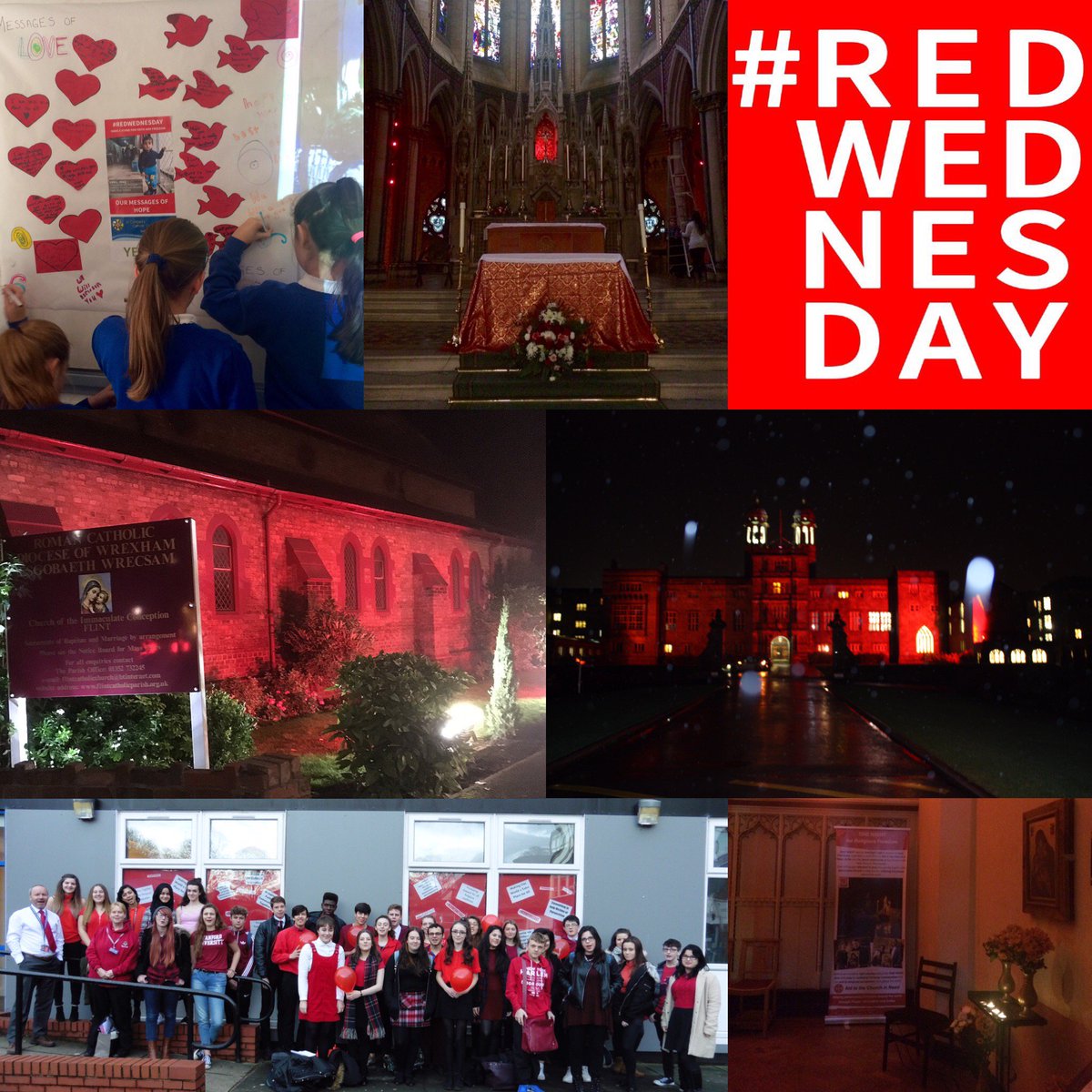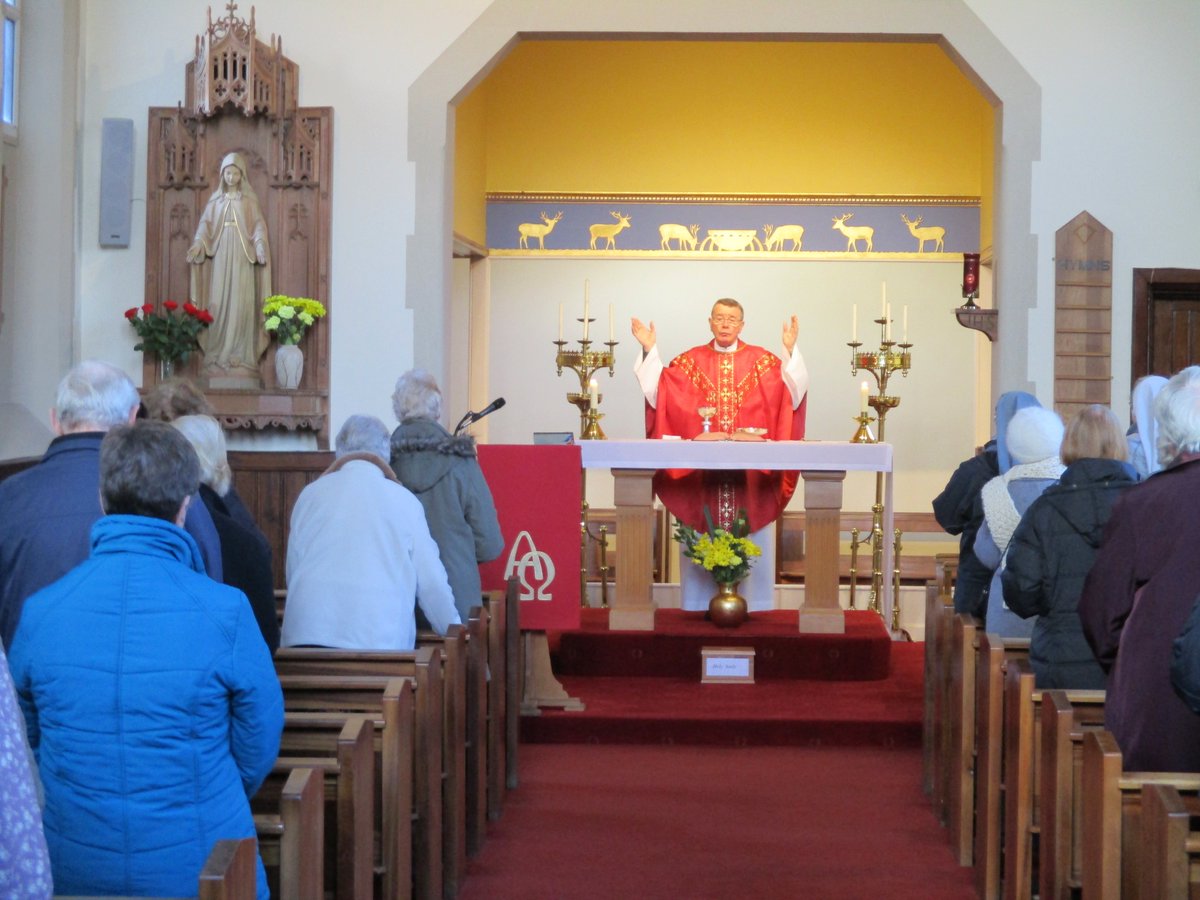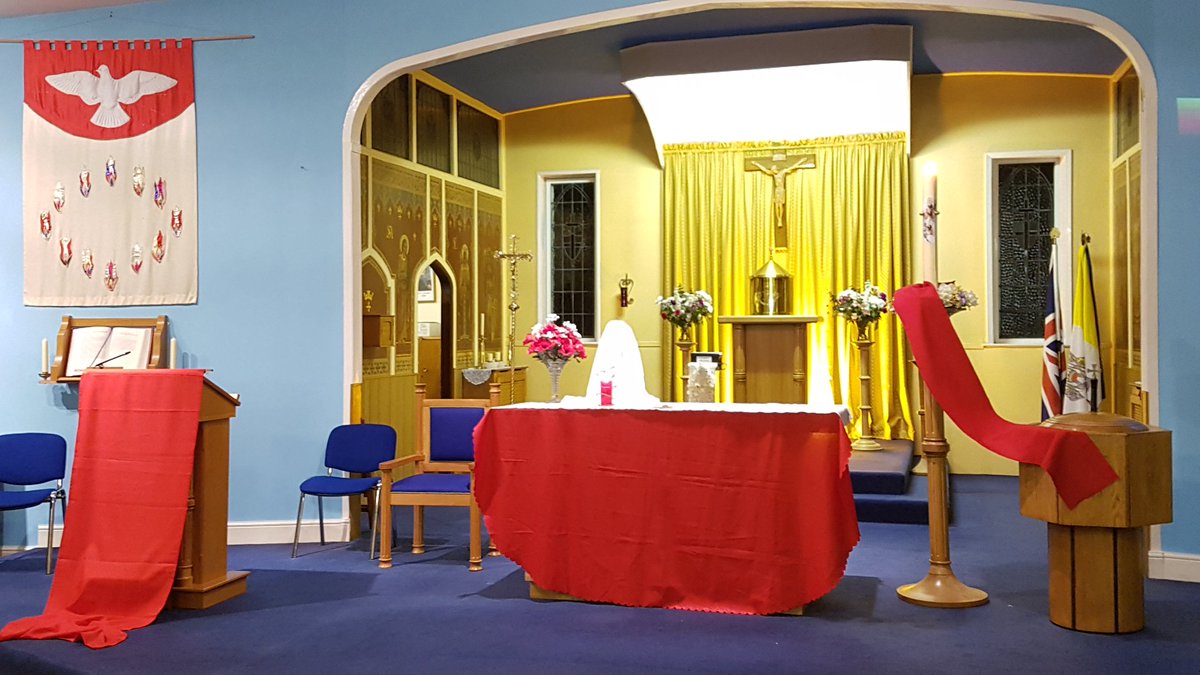 Peace between faiths means a shared commitment to love, truth and human dignity. May Christ give us grace to set an example #RedWednesday

Lambeth Palace

Wrexham
Stonyhurst College Lancashire 
Immaculate Conception Church in Flint – one of the first churches to take up the Red Wednesday challenge…
Liverpool Hope University
Stockport Focus School
Birmingham University: Old Joe Clock Tower
http://www.birmingham.ac.uk/news/latest/2016/11/Old-Joe-turns-red-for-global-victims-of-faith-persecution.aspx
Blackfriars Oxford
#RedWednesday – 23rd November 2016
Also see:
http://www.jesuit.org.uk/stonyhursts-red-witness-worlds-persecuted
 Red Wednesday – Wednesday November 23rd was a moment to focus on the dramatic increase in religious persecution worldwide which has occurred in the past six years. 5.3 billion people (76 per cent of the world's population) live in countries with a high or very high level of restrictions on religion. From Bangladesh, where atheists are murdered with impunity to Saudi Arabia where churches are banned and converts are criminalised, to Burma, where Muslim Rohinga are denied citizenship, to Iran where Bahais are executed, to China, where bishops are imprisoned and churches demolished, to countries like Syria, Iraq, Nigeria, Pakistan, Sudan and North Korea, where believers are subjected to genocide, crimes against humanity, persecution or discrimination, lives are literally soaked in blood. Red Wednesday was a chance to show solidarity and to demonstrate that their suffering is not forgotten; a chance for people of all faiths and none to shine a light on global suffering.
Iconic buildings like the Houses of Parliament, Westminster Abbey and Westminster Cathedral will be bathed in red light, so will an Orthodox cathedral, a London synagogue, a Methodist church in Greater Manchester, and the world's oldest Jesuit school, in Lancashire. Many people wore something red, others lit up their Facebook sites in red, others found their own way to identify with the one in five who suffer somewhere in the world for their faith.
Pass these details to others and ask them to play some small part in the continuing struggle to create greater awareness of the scale of persecution.       
https://davidalton.net/2016/10/26/redwednesday-23rd-november-2016-circulate-details-to-others-so-that-red-wednesday-becomes-a-day-when-people-stand-together-for-the-persecuted-and-forgotten-silence-in-the-face-of-evil/
Further details: Johnny Dowling on 0208 661 5154 or john.dowling@acnuk.org
 "Silence in the face of evil is itself evil…not to speak is to speak. Not to act is to act." Dietrich Bonheoffer
"Silence in the face of evil is itself evil…not to speak is to speak. Not to act is to act." Dietrich Bonheoffer
Launch of Religious Freedom in the World 2016 report
Grand Committee Room
Thursday, 24th November 2016 at 11am
It is with great pleasure that I write to invite you to the launch of our Religious Freedom in the World 2016 report. Produced every two years by the international Catholic charity Aid to the Church in Need the report assesses the prospects for religious liberty in every country worldwide. Examining the role of extremism in society, the report looks at key concerns such as law and order, economic forces and culture. Sponsored by Sir Edward Leigh MP and Rob Flello MP, the launch will be chaired by Lord Alton of Liverpool with guest speakers including:
His Holiness Ignatius Aphrem II
Patriarch of the Syriac Orthodox Church, based in Damascus, Syria
Shaykh Dr Umar Al-Qadri
Ameer of the Al-Mustafa Islamic Educational & Cultural Centre, Ireland
Dr Sarah Bernstein
Director-General of the Jerusalem Centre for Jewish-Christian Relations, Israel
---
Standing up for faith and freedom – On 'Red Wednesday' religious buildings will be flood-lit in red
Posted by ACN News on 16/11/2016, 6:10 am

ACN News: Wednesday, 16th November 2016 – UK
Standing up for faith and freedom
• On 'Red Wednesday' – 23rd November – Muslims, Christians and Jews will be uniting against religious persecution
• Key religious buildings will be flood-lit in red
By Murcadha O Flaherty
CHURCH communities and other faith groups are coming together in an act of solidarity with those around the world suffering persecution because of their faith.
The Red Wednesday event co-ordinated by Catholic charity Aid to the Church in Need will involve lighting up Westminster Cathedral and Westminster Abbey in red. Also being floodlit in red on the day (Wednesday, 23rd November) are religious buildings around the country – including Brentwood Cathedral and the Liberal Jewish Synagogue, St John's Wood.
That same day, a red Routemaster London bus emblazoned with the words "Stand up for Faith and Freedom #RedWednesday" will be making its way through London stopping at the Imam Khoei Islamic Centre, St Paul's Cathedral, and St John's Wood Synagogue and Westminster Abbey. The bus is due to set off from Westminster Cathedral and will be waved off by youngsters from the nearby St Vincent de Paul Primary School. Students from schools in many parts of the UK will be marking Red Wednesday by wearing an item of red clothing and holding prayer services and other activities in support of people suffering for their faith.
Coming to London to support Red Wednesday will be His Holiness Ignatius Aphrem II, Patriarch of the Syriac Orthodox Church, based in Damascus, Syria, Dr Sarah Bernstein, Director-General of the Jerusalem Centre for Jewish-Christian Relations, Israel and Shaykh Dr Umar Al-Qadri Ameer, Head-Imam of the Al-Mustafa Islamic Educational & Cultural Centre, Ireland.
The following day (Thursday, 24th November), they will be speaking at the launch of Aid to the Church in Need's 2016 Religious Freedom in the World report which assesses the situation for different faith communities in 196 countries – every nation on earth. The launch will take place in the Grand Committee Room of the House of Commons and will be chaired by Lord David Alton of Liverpool.
Aid to the Church in Need UK National Director, Neville Kyrke-Smith, said: "We hope that the ACN red bus as it travels London on Red Wednesday will highlight the very real and pressing issue of those suffering because they are persecuted today for their peacefully held beliefs. We will invite all those, whether Christian or other faiths to attend and show their support for the right of a person to practise their religion in peace".
Describing the plans for Red Wednesday, event coordinator Patricia Hatton said: "We are delighted that a growing number of parishes, schools and groups around the country are pledging their support including Catholic, Church of England and Free Churches who are lighting red. We are also inviting everyone, and especially schools, groups, and university students to wear red – as a symbol of the suffering today of people of faith. Priests too can get involved by wearing red vestments to celebrate the Feast of St Clement, Pope and Martyr."
Mrs Hatton encouraged people to support Red Wednesday by coming to see the bus and meet those on board and people of different faiths involved in the event. The Routemaster is due to depart Westminster Cathedral at 11.30am, arriving at noon at the Imam Khoei Islamic Centre. The bus will then travel to the Liberal Jewish Synagogue, St John's Wood arriving at about 12.45pm, before moving on to St Paul's Cathedral around 3pm. Depending on traffic, the bus may stop at Buckingham Palace, Trafalgar Square and the London Eye. It will arrive at Westminster Abbey at 4:30pm for photographs to be taken with dignitaries including Lord Alton of Liverpool. The ACN red bus will go on to Westminster Cathedral, where it will remain at from 5pm until 7:30pm.
In the evening, Holy Mass is available in the cathedral from 5.30pm – 6.30pm. A Prayer service will be led by Westminster Youth Ministry team in the Cathedral Piazza alongside film and music including Soul Sanctuary Gospel Choir and violinist, Cathy Fox. Westminster Cathedral will be among the buildings being lit up in red from 6:30pm until midnight.
Throughout the world people are being persecuted because of their Faith. The young, the old, women and children, priests, Sisters and religious leaders are victims of kidnap , torture and death.
In partnership with Aid to the Church in Need, on the evening of #RedWednesday – 23rd November 2016, Westminster Abbey and Westminster Cathedral, will light up their iconic facades Red. This profound act of solidarity will be joined by other faith groups as a tribute to all who, in recent times, suffer injustice and risk their lives for their faith.
Be part of Red Wednesday and make a stand against religious persecution and stand for peace and tolerance
 How You Can Support Red Wednesday:
Red Wednesday is a big opportunity to stand up for faith and freedom and to put pressure on the UK government and the international community to protect people of faith, find solutions to the problems that are fuelling extremist violence and to make our world a safer place.
#1 Wear Red on Wednesday 23rd November
#2 Share your #RedWednesday selfies
#3 Pray for Christians suffering around the world
 Support #Redwednesday:  stand up for Faith and Freedom
Download your #RedWednesday twitter and facebook headers.
Download your #RedWednesday poster.
Pledge your support for #RedWednesday
November 23rd 2016: Under the shadow of IS: Iraqi Christians tell of crucifixions, torture, sex
Read the full article on HRWF website
World Watch Monitor (21.11.2016) – http://bit.ly/2fkeMxm – Islamic State (IS) jihadists hung Karlus, a 29-year-old cook, from the ceiling of the jail he was held in, by a rope attached to his left foot. As blood poured from his foot, they beat and kicked him, rubbing salt into his wounds. He was sexually abused in prison by three women wearing niqabs. He was told he would be shot dead; but for reasons he still does not understand, on the day his execution was due to take place, 26 September 2014, he was released.
When IS seized control of Iraqi territory in the summer of 2014, they gave Christians, as "People of the Book", four options: leave, convert to Islam, pay a protection tax (jiyza) or be killed. The vast majority fled – an estimated 120,000 in a few short weeks that summer. But those left behind were subjected to torture, forced conversion, sexual slavery and even crucifixion, according to testimonies collected from Iraqi refugees in Jordan by the religious freedom charity ADF International.
Karlus told its researchers he had been unable to flee his home in Batnaya, a village outside Mosul, because he was looking after his disabled father. When the terrorists came to his house, they destroyed a cross and a picture of Jesus.
"They even destroyed a piece from the Quran that was given to me by a friend," he said.
Karlus was taken to a police station unconscious after retaliating when one of the jihadists hit him in the face. There began his seven-week ordeal at the hands of IS, after which he fled to Kurdistan, was treated in Spain for the injuries to his leg, and sought asylum in Jordan. Unknown to Karlus, his father had meantime managed to travel to Baghdad, but died there in August 2015.
Esam, a father-of-three from outside the town of Qaraqosh, said two of his wife's relatives had not managed to flee Qaraqosh before IS arrived. They were abducted; the husband has not been heard of since and the wife "now lives with one of the Daesh [IS] amirs". While reports have focused on Yezidi women being taken into sex slavery, Esam's account suggests that Christian women and girls may have been targeted as well.
"We heard of 12 Christian girls who are with Daesh. They may be more. Our bishop told people not to tell if they lose their girls: it is a shame on the family," he said.
Karlus and Esam are among the thousands of Iraqi Christians who have sought refuge in neighbouring Jordan. While Iraqi and Kurdish forces and militias, with US and UK air support, are embroiled in the push to liberate Mosul from IS, many Christians from the city and its surrounding villages are too traumatised by their experiences to countenance returning. Some say they feel betrayed by neighbours who supported IS, and are no longer sure whom they can trust. Instead, many have applied for asylum in Western countries such as Sweden, Canada and Australia.
One family recovering in Sweden is that of Esam's brother-in-law.
"My wife's brother was crucified by Daesh," Esam said. "He was crucified and tortured in front of his wife and children, who were forced to watch. They told him that if he loved Jesus that much, he would die like Jesus."
Esam said the fighters tortured his relative from 6pm until 11pm; they cut his stomach open and shot him before leaving him hanging, crucified.
My wife's brother was crucified by Daesh. He was crucified and tortured in front of his wife and children, who were forced to watch. They told him that if he loved Jesus that much, he would die like Jesus.
"A Swedish organisation helped his wife and the children; they are now in Sweden." He added: "His wife has cancer."
In the ongoing instability in Iraq, Christians are not necessarily safe even if they escape areas held by IS. Baghdad has been home to the country's largest Christian community for decades, but numbers have plummeted as sectarian militia violence sporadically ripped the capital apart and targeted non-Muslims in the wake of the 2003 US-led invasion. Twice in 2014, Alaa, a father-of-two living in the city, received death threats. The first was by phone; the second time, "someone wrote on our door, 'Your day is coming to die, you infidels'". Alaa knew these were no empty threats.
"My wife's cousin was killed in 2010, in an explosion at a church. Another family member was abducted in 2009," he said. The family left Iraq in November 2014 and flew to Jordan to register as refugees.
Amid the ongoing violence and political instability in Iraq, Alaa sees little future for his family. "It is impossible to go back to Baghdad," he said. "It is not possible to go back to Iraq. I can't build a life there. I hope to go to Australia, but any country that will accept me, I will go there. I want to build a life and a future for my children."
Some of the damage done by IS has already begun to be reversed. Esam said friends of his who escaped Mosul after being forcibly converted to Islam had been "baptised back to Christianity". Other aspects will take far longer. Iraqi Christians who end up returning to Iraq know they return to a country whose sectarian fault-lines have been activated to lethal levels. Aid workers have warned that extensive reconciliation work will be vital if Iraq's many different faith and ethnic communities are to cohere again, especially as levels of trauma among all sectors of the population are thought to be extremely high. In Jordan, Karlus reflects on his ordeal at the hands of IS members in Mosul.
He concludes: "What happened is not easy, but in the end we must forgive. This is my destiny; maybe God is planning something for me."
Read the full article on HRWF website
View all " Freedom of Religion or Belief" Newsletters: 
http://hrwf.eu/newsletters/forb/
View this newsletter: 
Join with  others who have signed the petition or make your pledge to support RED WEDNESDAY at:  
http://www.acnuk.org/redwednesday
Red Wednesday House of Commons Debate: November 15th 2016.
[Robert Flello in the Chair]
4.00 pm
Chris Green (Bolton West) (Con)
I beg to move,
That this House has considered the Red Wednesday campaign against religious persecution.
It is a pleasure to speak on this very important subject under your chairmanship, Mr Flello. All over the world, thousands of people are persecuted because of their faith, through false imprisonment, physical and mental torture, rape, slavery and, more subtly, discrimination in education and employment. For some, their faith can cost them their lives.
In partnership with the charity Aid to the Church in Need, on Wednesday 23 November Westminster abbey and Westminster cathedral will be lighting up their iconic buildings in red. Other faiths will join in that act of solidarity as a tribute to the people worldwide who are suffering injustice and risking their lives for their faith. I have written to Bolton Council to ask it to join this movement and light up Bolton's historic town hall in red on 23 November to promote solidarity with those who are suffering. Aid to the Church in Need is also encouraging smaller, more personal acts of recognition on that day that everyone can take part in—for example, simply wearing red for Red Wednesday or using the hashtag #RedWednesday on social media to raise awareness of the plight of others. Having greater awareness and understanding will help to ensure that we never take our freedoms for granted.
This year, I joined colleagues from both sides of the House on a visit to northern Iraq to meet persecuted Christians fleeing the terrorist group Islamic State. In Mosul and elsewhere, Christians have been systematically targeted and the noon symbol, the Arabic equivalent of the Latin N for Nasara or Nazarene, has been daubed on their homes. They have been given the grim choice of paying the jizya tax, converting to Islam or being put to death. Many chose to flee, especially when their money had run out and they could no longer pay the extortion. That persecution, along with that of the Yazidi and many Muslims, led last April to the debate, granted by the Backbench Business Committee and led by my hon. Friend the Member for Congleton (Fiona Bruce), on recognition of the genocide perpetrated by ISIL in the region.
The Christian community in Iraq is one of the oldest in the world, dating back to the first century. There were thought to be 1.5 million Christians in Iraq before the invasion in 2003. However, that number is reported to have fallen now to about 230,000. Although many people have been persecuted and have fled the region, that figure shows the targeted nature of the persecution and, if it carries on in that direction, we will soon see the end of Christianity in much of the middle east.
We know that there is a civil war in Syria and Iraq, but sometimes the religious context is overlooked or obscured by more dramatic events. When we met His Holiness Ignatius Aphrem II, the Syriac Orthodox Patriarch of Antioch, he gave us a sense of how overlooked many people feel. He used the example of the protection given to eight frogs in Australia. The pond in which the frogs lived was the subject of a huge local campaign, and a small fortune was spent to save them. He said that, in comparison, many Christians in Iraq felt ignored. Of course we have to protect our natural environment, but I am sure that many colleagues would be as concerned as I am about the scarcity of letters and emails on religious persecution compared with, say, badgers and bees.
I congratulate the hon. Gentleman on initiating this timely debate. Is he aware of the persecution faced by the Ahmadiyya Muslim community in Pakistan? Since they faced criminalisation in 1984, hundreds of Ahmadis have been murdered in sectarian hate crimes. Does the hon. Gentleman agree that the Government must continue dialogue with countries such as Pakistan to better promote religious tolerance?
I agree wholeheartedly with what the hon. Lady has said. It is so important now to reflect on the effects of increased globalisation. What goes on in one country, especially if endorsed by the Government—I am thinking of the Ahmadiyya community no longer being recognised as Muslim and being proscribed from describing themselves as such—is transmitted around the world as an idea and does not help to foster community relations here, so the hon. Lady makes a superb point.
In October 2016, Archbishop Sebastian Shaw of Lahore, Pakistan, told a Foreign and Commonwealth Office conference about his niece's first year at school. That Christian girl was required to memorise a lesson that she was a Muslim and all non-Muslims were infidels. He spoke about how some textbooks in Pakistan's schools foster prejudice against members of religious minorities, including Christians, Hindus, Jews and Sikhs.
Studies of the problem have been carried out both by the Catholic Church in Pakistan's National Commission for Justice and Peace and by the United States Commission on International Religious Freedom. The report, which covered the Punjab and Sindh provinces, noted more than 50 hate references against religious minorities in those provinces' textbooks. That is a very important example of religious persecution not always being about death and destruction. It can be found in all kinds of other measures, including ones that normalise the sense of persecution in schools. That kind of literature or information and that kind of understanding can be developed in schools and the wider community. I would be grateful if my hon. Friend the Minister included in his reply what steps the Government are taking to stop that happening, particularly in nations that receive British aid to provide not just education but security in the region and beyond. I think that that is an aspect of what the hon. Member for Rutherglen and Hamilton West (Margaret Ferrier) was highlighting.
Oppression of religious communities is not always due to conflict between religions; it can also be part of state oppression, particularly in the remaining communist countries. North Korea is perhaps the most notorious, but we can also see the oppressive treatment of Christians in Cuba and of Muslim Uyghurs in western China.
Britain has her own problems with religious persecution, so it is not just an international problem. The case of Nissar Hussain from Bradford is a particularly shocking example and has gained widespread public attention only after 20 years of suffering following his conversion from Islam to Christianity. Violent punishment for apostasy has no place in any society.
Organisations such as Aid to the Church in Need and Christian Solidarity Worldwide have done a huge amount of work to improve the lives of the persecuted across the world, but we are looking for long-term solutions and, especially for the middle east, one that does not lead to the disappearance of Christianity or other religious groups.
I encourage colleagues and people watching the debate to take part in Red Wednesday next week, to read the report, which will be released on 24 November, or to write to their local council to turn a local monument red. The importance of raising awareness of this issue cannot be overstated.
I will conclude with the words of an Iraqi Christian.
I congratulate the hon. Gentleman on bringing this very important issue to Westminster Hall. The Red Wednesday campaign against religious persecution is very important. The hon. Gentleman and I were together on a trip to Iraq just in September, so we know very well about the persecution. It is good to remember such persecution on Red Wednesday, because this year 100,000 Christians will be killed because of their faith; 200 million Christians live in a persecuted neighbourhood; and 2 billion will face persecution and discrimination. If ever there was a good cause to follow and to recognise, Red Wednesday is it. Does the hon. Gentleman agree? I am sure he does, but let us see what he says.
I absolutely agree. The figures that the hon. Gentleman highlighted show how widespread concerns about persecution across the world are. On every continent, people of all religions suffer in so many different ways. I will conclude with the quotation, which sums up the way many Christians feel at the moment:
"The attacks on Christians continue and the world remains totally silent. It's as if we've been swallowed up by the night."
4.10 pm
It is a pleasure to work under your chairmanship, Mr Flello, and an honour to respond to this important debate by spelling out our approach to human rights. I am pleased to see hon. Members here in the Chamber who have gained a reputation for raising these matters and for holding the Executive to account to see what we can do to make sure we underline the values that are important to us in the United Kingdom.
After the last election, we had a rethink about how best to consolidate our international approach to promoting human rights and democracy abroad. Our manifesto commitment was:
"We will stand up for the freedom of people of all religions—and non-religious people—to practise their beliefs in peace and safety".
Before the election, we had eight themes, which I think was a bit too cumbersome. They have been narrowed down to three core pillars. They are, first, the values, including democracy, the rule of law, freedom of the media, freedom of religion or belief and women's rights; secondly, the rules-based international system, supporting human rights as one of the UN's three pillars that help to provide a nominative framework for the prevention of conflict and instability; and finally, human rights for a stable world—so, managing the risks of UK engagement in countries with poor human rights records, which includes our overseas security and justice assistance framework and contributing to tackling extremism.
4.12 pm
Sitting suspended for Divisions in the House.
4.37 pm
On resuming—
Before we were interrupted by the Divisions, I was explaining that in this House we often ask ourselves what is the value of international aid. We can contextualise the support we give and the trade we do with other countries in terms of the influence we derive when we have questions about their democratic values, concerns about how they follow the rules-based international system or, indeed, worries about whether they are following human rights. I make it clear that, where we can, our support and financial assistance go to non-governmental organisations, rather than directly to Governments. When we provide support to Governments directly, we try to ensure that they abide by our shared commitments and standards.
When the Minister has discussions about international trade and aid in relation to human rights, for example, what sort of response does he get? More importantly, what is the role of the United Nations? Does it make much progress?
The hon. Gentleman speaks of the United Nations as if it were another organisation. We are part of the United Nations. We affect the approach of the United Nations on such matters. As a permanent member of the United Nations Security Council, we are concerned not only about security matters but about improving standards of life, democratic values, the rule of law and humanitarian rights across the world. We want to use the UN as a vehicle through which we can leverage change.
Let us look at our own history. Without going into detail, it took us time before monarchs did not have their head removed, before people were not sent up chimneys and before the slave trade was abolished. I am not making an excuse for not pushing such things but, ultimately, we have to effect cultural change at a pace that works, rather than galvanising the opposite message from the one we want to push.
The Minister knows, as he said earlier, that I am one of those who have spoken out many times in this House on behalf of Christians. The all-party parliamentary group on international freedom of religion or belief, which I chair, speaks out for those of the Christian religion, those of other religions and those of no religion. When it comes to human rights, we want Muslims to speak up for Christians and Christians to speak up for Muslims. Has the Minister seen much evidence of that taking place around the world, when he has had an opportunity to speak to other countries?
The hon. Gentleman is absolutely right to stress that. We want believers and non-believers to allow freedom of belief. That is what we are pursuing, and it is exactly Britain's approach when we have dialogues with other countries. The fact that we have an economic relationship with other countries allows us to have necessary frank conversations, sometimes behind closed doors; I appreciate that many hon. Members might feel that they do not hear enough of what we are saying and what pace of change we expect from other countries as they raise their game. A great example, which I know the hon. Gentleman has raised on many occasions, is the use of the death penalty. We abhor it, we ourselves have moved through it and we encourage other countries that use the death penalty to meet EU guidelines and ultimately to remove it.
If there are no further interventions, I will move on. I begin by congratulating my hon. Friend the Member for Bolton West (Chris Green) on securing this important debate. It is an opportunity to confirm the Government's commitment to the right to freedom of religion or belief. It is understandable that his speech focused on the harrowing situation faced by Christians in parts of the middle east. I certainly share his concern. As I mentioned earlier, this Government have a manifesto commitment to support freedom of religion or belief for people of all religions and non-religious people, which is exactly the point raised by the hon. Member for Strangford (Jim Shannon). In particular, we are working internationally to deliver our commitment for Christians in the middle east.
The Minister will recall the debate held on 20 April this year, to which my hon. Friend the Member for Bolton West (Chris Green) referred and to which the Minister responded. The House unanimously called on the Government to make an immediate referral to the UN Security Council, with a view to conferring jurisdiction on the International Criminal Court so that perpetrators could be brought to justice. I was pleased that the Minister said in that debate that the Government were
"supporting the gathering and preservation of evidence that could in future be used in a court to hold Daesh to account"
and
"will do everything we can to help gather evidence that could be used by the judicial bodies".—[Official Report, 20 April 2016; Vol. 608, c. 996.]
I have two questions for the Minister. How have the Government been facilitating the gathering and preservation of evidence of crimes, as they promised, and what steps are they taking to ensure that members of the global coalition, united to defeat Daesh, are also gathering and preserving such evidence? Given that Daesh is now rapidly losing ground in Syria and Iraq, and with the battle of Mosul raging, does he not agree that the Government should make clear how they intend to deal with the perpetrators when they are caught, and should do so with a sense of urgency?
I remember the debate well. I made it clear—I think that I was the first Minister to do so—that I believe that war crimes have been committed in Iraq and Syria and that crimes against humanity have been committed by Daesh and other extremists in that location, but it is not my opinion or the Government's opinion that counts, because it is not a political judgment. It must be a legal judgment, and there is a process that must be approved. We cannot get a UN Security Council resolution passed until the evidence is gathered. There is a mechanism to get to the International Criminal Court, and it includes the collection and collation of evidence, as my hon. Friend highlighted.
I will not go into too much detail, other than to say that gathering the evidence, by its nature, requires people to expose themselves to dangerous circumstances. As my right hon. Friend the Foreign Secretary has said on a number of occasions, the wheels of justice grind slowly, but they grind fine. As we saw in Bosnia and the former Yugoslavia, it can take many years until those people end up in The Hague, but they are held to account. That is why the Foreign Secretary, when he visited Washington DC in July, made the case and encouraged others to support his view that we must not allow the issue to be missed. We must collect the evidence. If I may, I will speak to my hon. Friend the Member for Congleton (Fiona Bruce) outside the Chamber and familiarise her with a bit more of the detail, but I hope that she understands the sensitivities of spelling out too much, simply because of the dangers entailed.
I welcome that, because evidence has come to my attention that several prominent leaders of Daesh are individuals in respect of whom the ICC has the ability to exercise its jurisdiction now, due to their nationality. I would be grateful if the Minister met with me to discuss it further.
I would be delighted to do so. I simply make the case that the Foreign Secretary is extremely passionate about the issue. Indeed, it came from the voices in the Chamber saying, "What is Britain doing to hold these perpetrators to account?" We must work with the Iraqi Government, UN organisations and other members of the international community to deliver justice and promote the rights of all minorities, as well as to hold perpetrators to account.
It is also worth mentioning that we are working further afield than the middle east, as well. In Pakistan, we regularly raise concerns about the freedom of religion or belief. In March 2016, my right hon. Friend the Chancellor, the then Foreign Secretary, raised the importance of safeguarding the rights of all minorities, including religious minorities. In Nigeria, we are providing a substantial package of intelligence, military development and humanitarian support in the fight against Boko Haram, including training and advice on counter-insurgency, and £5 million in support for a regional military taskforce.
Promoting religious tolerance is critical to reconciliation and securing a lasting peace in any combat area, but particularly in Syria and Iraq. That is why we developed the Magna Carta fund, which is being used to support several projects to promote freedom of religion or belief. In Iraq, we have funded a series of grassroots meetings between religious leaders of all faiths to promote religious tolerance. Over the past year, we have supported a project promoting legal and social protection for freedom of religion or belief in Iraq. The project aims to prevent intolerance and violence towards religious communities by inspiring key leaders in Iraqi society to become defenders of freedom of religion or belief.
Our commitment to promoting freedom of religion or belief is not confined to the middle east but extends right across the piece. It is integral to our diplomatic network in promoting fundamental human rights around the globe through our conversations with host Governments and other influential actors such as faith leaders, and through our project work and organisations such as the United Nations, the European Union and the OSCE.
Is the promotion of religious tolerance in Iraq being done from primary school age? I have seen some documentaries in which certain charities run schools to promote better understanding between different religions. Has there been much success with that?
Yes. I can write to the hon. Gentleman with more detail, but he is absolutely right that that is the age at which messages about understanding, reconciliation and recognition of the various pressures and influences are most received. Our work involves primary and secondary schools as well.
The foreign and commonwealth conference on this matter, which took place last month, was a ground-breaking conference on how protecting freedom of religion or belief can help combat violent extremism by helping make societies more inclusive and respectful of religious diversity. The conference brought together a range of experts and high-profile speakers. All participants, including many Foreign and Commonwealth Office staff, shared and benefited from practical and innovative ideas to advance the cause. We have also updated and reprinted the Foreign and Commonwealth Office's "Freedom of Religion or Belief" toolkit, which provides officers with guidelines on how to identify violations of the right to freedom of religion or belief and what to do about them, and with further sources of information for those who wish to examine the subject in more depth.
In conclusion, the Government will continue to fight for the freedom of religion or belief internationally. We do so not only because it is right and is enshrined in the universal declaration of human rights and in article 18 of the international covenant on civil and political rights but because extending freedom of religion or belief to more countries and more societies helps to make the world safer and more prosperous, which is in all our interests. We recognise that progress requires a response from the whole of society, so we welcome the opportunity to work with this Parliament and other Parliaments, with religious groups and with civil society partners such as Aid to the Church in Need, Open Doors and Christian Solidarity Worldwide. We believe that freedom of religion or belief is a universal human right and we will continue towards the ambitious goal of ensuring that it is enjoyed by everyone everywhere.
Question put and agreed to.
Red Wednesday Questions in Parliament
Wednesday November 23rd 2016
Lord Alton of Liverpool to ask Her Majesty's Government what priority is given within the Department for International Development (DfID) to issues related to religious liberty; how many staff, and what percentage of DfID's budget, are allocated to faith-related issues; who is the designated lead official on faith-related issues; and whether there are any plans to increase the staff resources allocated by DfID to deal with faith and faith communities.   HL3418
Lord Alton of Liverpool to ask Her Majesty's Government whether they consider that the mainstreaming of gender-related issues within the Department for International Development has been successful; what priority is given to it; what funding and how many officials are specifically dedicated to working on it; and what assessment they have made of whether it can be used as a successful model for the mainstreaming of support for minorities suffering persecution on grounds of freedom of religion or belief.   HL3419
Lord Alton of Liverpool to ask Her Majesty's Government whether they intend to introduce protection and support for minorities suffering persecution on grounds of freedom of religion or belief into every level of planning within the Department for International Development; whether they intend to make this a priority; and what measures they intend to introduce to track the impact of programmes aimed at reducing levels of religious persecution, hatred, and intolerance.   HL3420
Lord Alton of Liverpool to ask Her Majesty's Government whether they have made an assessment of research demonstrating the links between the promotion of freedom of religion and belief and those societies which are the most prosperous and stable; and whether such research informs the priorities and policies of the Department for International Development and the Foreign and Commonwealth Office.   HL3421
Lord Alton of Liverpool to ask Her Majesty's Government whether, in relation to humanitarian assistance provided to Iraq, a record is kept to track what support is given to religious minorities; what priority is being given to such groups in the plans for the reconstruction of the country; and what consideration is taken of the needs of such groups in military planning in theatres of war such as Mosul.   HL3422
Syria and Iraq: Genocide
22 November 2016
Question
2.51 pm
Asked by
To ask Her Majesty's Government what progress is being made in bringing to justice those responsible for genocide and crimes against humanity, particularly against Yazidis, Christians and other minorities, in Syria and Iraq.
My Lords, the Government believe that there needs to be accountability for the crimes committed in Syria and Iraq. We continue to support the UN Commission of Inquiry on Syria and have launched a global campaign to bring Daesh to justice. We are working with the Government of Iraq to bring a proposal before the UN to gather and preserve evidence in Iraq as a first step.
My Lords, tomorrow is Red Wednesday, when Westminster Abbey, Westminster Cathedral, a synagogue in north London and many other public buildings, including the Palace of Westminster, will be floodlit in red to commemorate all those who have been subjected to genocide or persecuted for their faith. Does the Minister recall that on 20 April the House of Commons declared that ISIS is responsible for genocide, the crime above all crimes? Can she therefore tell us how many British-born ISIS recruits have been brought to justice in British courts? Further, with Russia's withdrawal last week from the International Criminal Court, are we talking to other Governments about the creation of a freestanding regional tribunal to bring to justice those who have been responsible for these crimes of genocide?
My Lords, the noble Lord has asked several important questions and I will try to encapsulate them. Perhaps I may first comment with regard to Russia. When Russia grabbed the headlines about leaving the ICC, it was when I was going to the International Criminal Court in The Hague. I was perfectly well aware that the Russians had never ratified, although they had signed, the initial treaty—they made a play of the headlines, but there we are.
As regards the prosecution of Daesh fighters, it is the case that these have already begun, and I can certainly write to the noble Lord with details of the cases that have been taken in this country. However, around 60 countries have legislation in place to prosecute and penalise foreign terrorist fighters for their activities, and to date at least 50 countries have prosecuted or arrested such fighters or facilitators. On the matter of how a tribunal might be set up, it is possible of course that some form of international or hybrid justice mechanism may prove to be appropriate, but it is too early—and not for us alone—to prejudge that.
My Lords, as the order of scale of the genocidal crimes perpetrated by Daesh becomes ever clearer, are Her Majesty's Government aware that the Parliamentary Assembly of the Council of Europe recently called on the International Criminal Court to accept the existing jurisdiction that it has to prosecute foreign fighters complicit in the atrocities? Can my noble friend tell me whether Her Majesty's Government will assist the International Criminal Court in that endeavour?
My Lords, my noble friend is right about the resolution of the Parliamentary Assembly of the Council of Europe. When I was in The Hague last week, I made it clear both to the president of the ICC and the chief prosecutor that the UK continues fully to respect the independence of the Office of the Prosecutor to determine which situations are subject to preliminary examination. I emphasised, both publicly and privately, that the United Kingdom has a fully co-operative relationship with the ICC and an obligation to respond to all requests for assistance from the Office of the Prosecutor, and will do so.
My Lords, as well as punishing existing genocide, is there not a case for trying to prevent genocide in the future by tackling its precursor, which is frequently an education system that actively preaches discrimination against minorities? Can the Minister use her influence with DfID to ensure that our aid budget is used positively to help countries preach tolerance within their communities but at the very least to ensure that none of it is used actively to preach discrimination against minorities?
My Lords, the DfID aid budget is indeed used to ensure that those who need humanitarian aid receive it but also to address the issue of education. For example, a preliminary project in Iraq is looking at how to ensure that teachers are able to deliver education in a way that means that the next generation will not have some of the prejudices that have unfortunately been seen in some—only some—of the present generation. The Government of Iraq work very closely with us for peace and reconciliation.
My Lords, what further discussions have Her Majesty's Government had with other members of the Security Council, particularly Russia and China, about the suffering of minorities at the hands of Daesh? What discussions do they plan to have with the incoming United States Administration?
My Lords, following the launch by my right honourable friend the Foreign Secretary in September of the global campaign to bring Daesh to justice, we ensured that we had discussions with the other members of the Security Council—who were already aware of what was about to happen. We are making good progress in discussions across the United Nations on designing a system whereby evidence can be collected to bring Daesh to justice. Although I know that we have our differences with Russia over the way in which it has carried out some of its activities in Syria, I am hopeful that it may be in a position to support a process of bringing forward evidence in conjunction with the Government of Iraq—because it is Iraq led—so that the United Nations can then have a resolution before it which could be accepted by all.
I welcome what the Minister has said regarding the commission of inquiry. Just to amplify the last point, how are the Government building a consensus for that? I acknowledge the difficulty at the United Nations, but is not the first step surely to get wider support for that commission of inquiry?
My Lords, I think that I must be clearer in my answer and differentiate between the commission of inquiry, which we fully support and which continues as it is, and the work that we will now undertake with the Government of Iraq to present a resolution to the United Nations which would focus on collecting an evidence base. That is a different process. Our diplomats both in the United Nations and around the world are working hard to achieve support for that, including with our allies in the United States.
My Lords, while members of ISIS responsible for open slave markets and the systematic humiliation of Yazidi and Christian women must be brought to justice, does the Minister agree that the systematic bombing—to near extinction—of the people of Syria by both Russia and the West is also a war crime for supposed strategic interests? Does she also agree that the constant repetition of the mantra that Assad must go does nothing whatever to address the underlying religious tensions?
No, my Lords, I do not agree. It is the case that 68 members of the global coalition have come together in a signal of international intent to ensure that there is a government in Syria chosen by the Syrian people. It is Assad who is the block upon that: he is the major cause of the conflict and the major cause of death for those who have died—between 85% and 90%. He provides a rallying cry for Daesh. I am afraid that on this occasion, although on many others I can agree with the noble Lord, he and I will have to have different opinions.